Stand:
PULS Power
QS40.241, QS40.241-A1 -
28 Pagine
QS40.241, QS40.241-A1
24V, 40A, SINGLE PHASE INPUT
Q-Series
POWER SUPPLY
AC 100-240V Wide-range Input
QS40.241-A1 ATEX Approved with Conformal Coating
Width only 125mm, Weight only 1.9kg
94.6% Full Load and Excellent Partial Load Efficiencies
50% BonusPower®, 1440W for up to 4s
110A High Peak Current for 25ms for Easy Fuse Tripping
Safe HiccupPLUS Overload Mode
Active PFC (Power Factor Correction)
Negligible Low Input Inrush Current Surge
Full Power Between -25°C and +60°C
Current Sharing Feature for Parallel Use
Internal Data Logging for Troubleshooting Included.
Remote Control of Output Voltage
DC-OK Relay Contact
Shut-down Input
3 Year Warranty
GENERAL DESCRIPTION
SHORT-FORM DATA
The most outstanding features of this Dimension
QS40.241 DIN-rail power supply are the extremely high
efficiency and the small size, which are achieved by a
synchronous rectification, a bridgeless PFC circuit and
additional unique design details.
Output voltage
Adjustment range
Output current
A large international approval package for a variety of
applications makes this unit suitable for nearly every
application.
DC 24V
nominal
24 - 28V
40 – 34.3A
continuous
60 – 51.5A
short term (4s)
Output power
960W
continuous
1440W
short term (4s)
Output ripple
< 100mVpp
20Hz to 20MHz
Input voltage
AC 100-240V
-15%/+10%
Mains frequency
50-60Hz
±6%
AC Input current
8.6 / 4.5A
at 120 / 230Vac
Power factor
0.99 / 0.99
at 120 / 230Vac
AC Inrush current
typ. 16 / 9A peak at 120 / 230Vac
Efficiency
93.6 / 94.6%
at 120 / 230Vac
Losses
65.6 / 54.8W
at 120 / 230Vac
Temperature range -25°C to +70°C
operational
Derating
24W/°C
+60 to +70°C
between 85-90Vac see chapter 18
Hold-up time
typ. 27 / 27ms
at 120 / 230Vac
Dimensions
125x124x127mm WxHxD
ORDER NUMBERS
MARKINGS
Large power reserves of 150% and built-in large sized
output capacitors support the starting of heavy loads
such as DC motors or capacitive loads. In many cases this
allows the use of a unit from a lower wattage class
which saves space and money.
High immunity to transients and power surges as well as
low electromagnetic emissions makes usage in nearly
every environment possible.
The integrated input fuse as well as the near zero input
inrush current make installation and usage simple.
Diagnostics are easy due to the DC-OK relay, a green
DC-OK LED and the red overload LED.
Power Supply
QS40.241
QS40.241-A1
24-28V Standard unit
Conformal coated unit
with ATEX approval
IND. CONT. EQ.
UL 60950-1
UL 508
Accessory
ZM2.WALL
UF20.241
YRH80.241
YR80.241
Wall mount bracket
Buffer unit
Redundancy module
Redundancy module
EMC, LVD, RoHS
ATEX
Class I Div 2, pend.
II 3G Ex nA nC II T3 Gc
pending
Nov. 2012 / Rev. 1.0 DS-QS40.241-EN
All parameters are specified at 24V, 40A, 230Vac, 25°C ambient and after a 5 minutes run-in time unless otherwise noted.
www.pulspower.com Phone +49 89 9278 0
Germany
1/28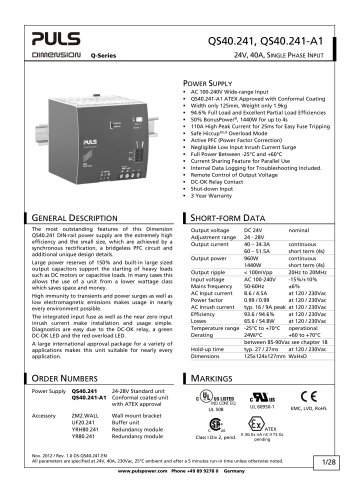 P. 2

QS40.241, QS40.241-A124V, 40A, SINGLE PHASE INPUTQ-SeriesINDEXPage1.2.3.4.5.6.7.8.9.10.11.12.13.14.15.16.17.18.19.20.21.22.Intended Use .......................................................3Installation...

P. 3

QS40.241, QS40.241-A124V, 40A, SINGLE PHASE INPUTQ-Series1. INTENDED USEThis device is designed for installation in an enclosure and is intended for the...

P. 4

QS40.241, QS40.241-A124V, 40A, SINGLE PHASE INPUTQ-Series3. AC-INPUTAC inputAC input rangenom.min.min.Allowed voltage L or N to earthInput frequencyTurn-on...

P. 5

QS40.241, QS40.241-A124V, 40A, SINGLE PHASE INPUTQ-Series4. INPUT INRUSH CURRENTThe power supply is equipped with an active inrush current limitation circuit,...

P. 6

QS40.241, QS40.241-A124V, 40A, SINGLE PHASE INPUTQ-Series6. OUTPUTOutput voltageAdjustment rangeRipple and noise voltageOutput currentOutput powerBonusPower®...
Versione testo
Tutti i cataloghi e schede tecniche PULS Power
Cataloghi archiviati
Products 2009-2010

28 Pagine

Products 2007

34 Pagine